Mythic Game Master Emulator 2nd Edition


Mythic's oracle-style question resolution system revolutionized solo role-playing. The Second Edition of the Mythic Game Master Emulator updates the ground-breaking 2003 ruleset with essential new additions, a wide range of options to customize your adventures, and numerous refinements.

This new edition contains:

A revised and simplified Fate Chart for faster and more intuitive Fate Question resolution.

The new Fate Check system, receive answers without a chart.

Numerous rules refinements and enhancements taking into account two decades worth of Mythic player experiences.

Many options for fine-tuning Mythic to get the kind of role-playing experience you want.

47 Meaning Tables to add just the right detail to your adventures when you need it.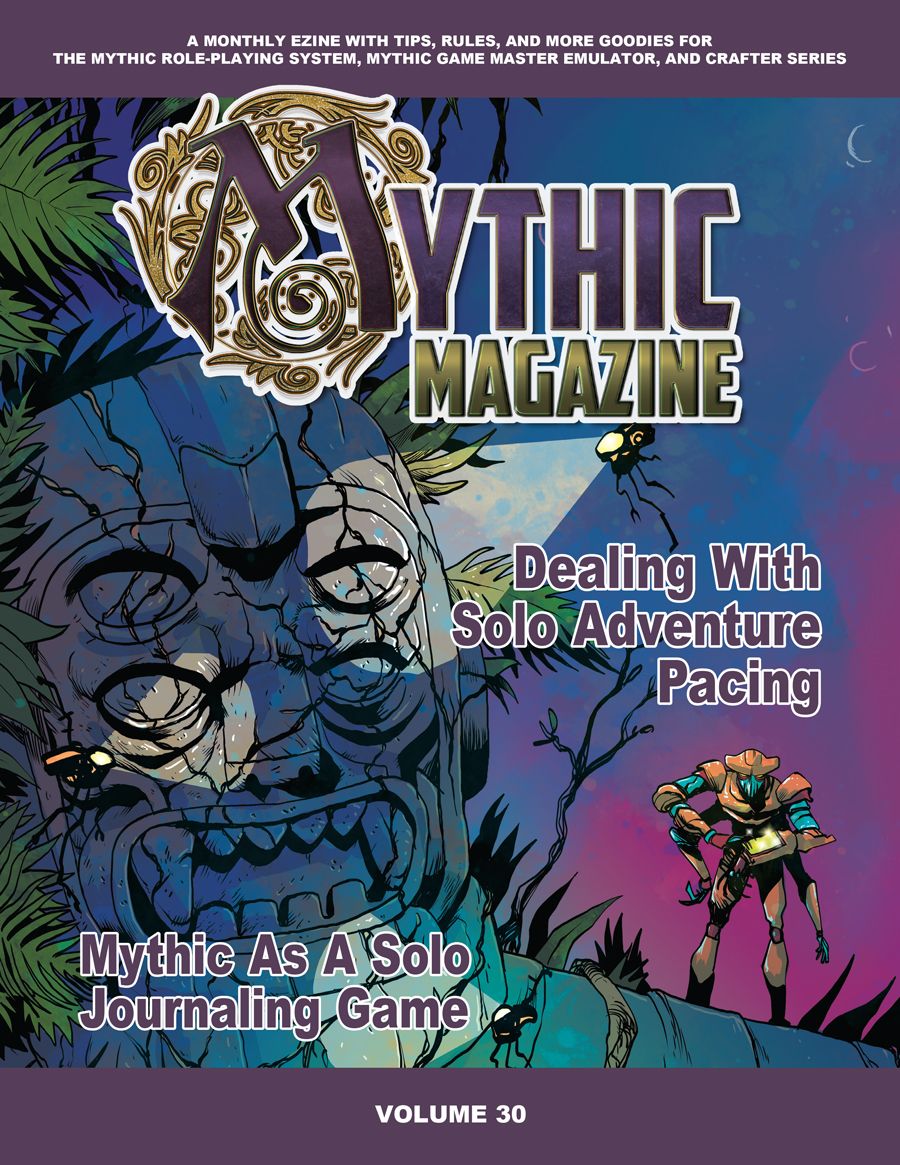 Mythic Magazine #30
This issue contains:

Dealing With Solo Adventure Pacing:

Strategies for slowing down, and speeding up, your adventures.

Mythic As A Solo Journaling Game:

Turn Mythic into a journaling experience!
Mythic RPG
is a DriveThruRPG.com best selling product that made true solo role-playing a possibility, using any RPG. Mythic RPG introduced the concept of solo "oracle" engines in 2003, later breaking out the GM emulation rules from the full RPG in 2006 with
Mythic Game Master Emulator
.

The popularity of solo and GM-less RPG play has grown ever since.

The Mythic system has been expanded with further books offering additional options for your solo RPG experience. The monthly ezine
Mythic Magazine
regularly presents new rules and tips.

Word Mill Games has also released the
Crafter Series
of books, designed to give Game Masters more tools to make adventure creation quick and fun.
Published monthly,
Mythic Magazine
is an ezine presenting new ideas and crunchy details for your Mythic and Crafter adventures. Each issue contains thoughts and discussion, new rules variations, and other goodies. It's a monthly toolbox of resources for your Mythic adventures to stir lots of good, creative thought.

Mythic Magazine is available for automatic monthly delivery through Patreon, or you can find individual copies on DriveThruRPG.com as they become available.